University Hospital of South Manchester migrate to Ensemble and enables the building blocks of integrated health and social care
University Hospital of South Manchester NHS Foundation Trust (UHSM) has successfully completed migration from their legacy JavaCAPS integration environment, to the Ensemble platform. The trust is the latest in a long succession of NHS trusts that have taken the decision to migrate to Ensemble, as part of a longer-term goal for achieving integrated care within the health and social care community.
Having selected Ensemble as its preferred TIE, and following a competitive review process, UHSM appointed integration services provider, ReStart to manage the migration process and continue to support the trust's integration environment for a further year, through a 24/7 managed service which involves remote monitoring of all the interfaces and 1st line support of the TIE. ReStart has replaced all like-for-like interfaces using a high-availability environment to manage the smooth transition.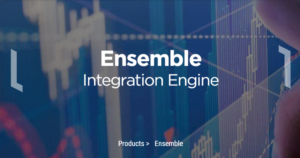 Geoff Corner, IT Project Manager at UHSM commented: "We considered the JCAPS platform to be old and outdated, which was one of our main reasons for moving to Ensemble. There were historical issues with some of the old interfaces, and moving to Ensemble has enabled us to provide a more resilient platform for integration between our iSOFT Patient Manager PAS, local patient index and our key departmental systems. The trust is working towards achieving integrated care across health and social care in the next 3-5 years so it is vital that we get the infrastructure to enable this."
The need for migration to Ensemble was further compounded by the looming expiration of the NHS Enterprise Wide Agreement for licences to use Oracle databases in May 2014.  UHSM has migrated away from Oracle and migration to Ensemble by April 2014 became a key dependency for completion of this work. The trust has built a local patient index and Phase One of the TIE migration included interfacing to this index which has removed the 12-hour delay between events being recorded, and this information filtering back to the PAS and core systems. Clinical teams are now able to see information in real-time which has increased operational efficiencies and reduced clinical risk in the process.
When asked about the benefits of the migration, Geoff Corner said: "The migration has afforded the trust greater stability and resilience with the integration of downstream systems that need pathology, ADT and demographic results. There are a number of operational benefits that we can recognise, but ultimately, the migration will enable the wider system integration into community and social care in the next phases. We will be working towards a large EPR project with 2 neighbouring trusts in the future and we have the stable infrastructure now to push ahead with these plans."
Continuing to speak about the trust's decision to work with an outside supplier, rather than take on the challenges of the migration internally, Geoff continued: "ReStart proved beyond doubt that they had the skills required for the TIE migration as they had performed this type of migration, many times before with other NHS trusts. Certain interfaces that required migration were very complex and with the legacy of issues that we'd had with these interfaces, working with a skilled integration services provider like ReStart, made perfect sense. In addition to this, they have a highly recommended 24/7 support offering, which provides proactive monitoring of our environment, around the clock. As a trust, we were able to add another layer of resilience to our internal integration support by working closely and proactively with the ReStart support team."
Mike Symers, Managing Director at ReStart said: "We have completed almost a dozen JCAPS to Ensemble migrations now and no two are the same. There was an enormous amount of emphasis on testing before the migration took place, and I'm delighted with the way our team worked with UHSM to complete this complex migration in a relatively short time. UHSM's wider strategy to achieve EPR and integrated care across health and social services is achievable now the enabling infrastructure is in place and we look forward to supporting UHSM as they move towards this."
About University Hospital of South Manchester NHS Foundation Trust
UHSM is a major acute teaching hospital trust providing services for adults and children at Wythenshawe Hospital and Withington Community Hospital. We are recognised as a centre of clinical excellence and provide district general hospital services and specialist tertiary services to our local community. Our fields of specialist expertise – including cardiology and cardiothoracic surgery, heart and lung transplantation, respiratory conditions, burns and plastics, cancer and breast care services – are also provided to patients from much further afield, across the North West and beyond.